WEBSITE UPDATED Oct. 9, 2022


---
If you have not heard already, Synthesis Technology is in the process of selling off our existing module inventory, for a planned retirement around April 2023.
No, we ARE NOT OUT OF BUSINESS
We post weekly updates on our Facebook group: SynthTech Modular
We still 100% support our dealer network around the world, and we still support our modules
There are still 100s of modules on order from our dealers, and we will be around to ship EVERY LAST ONE before we close
More updates will be posted starting in Jan 2023. Yes, there is 1 more E520 Hyperion algorithm update planned. STAY TUNED!
---
NEW! E440 Discrete OTA VCF now available in Black Panel Version!
Click on the
SHOP
tab at the top of the homepage. Avaialble as a fully assemble module, or JUST the front panel ONLY.
---
E520 Hyperion V1.2 released
Version 1.2 adds long-awaited reverb algorithms to the E520. But not just ANY reverbs: specifically ALL the original Alesis MidiVerb I and MidiFex programs, and a true IR Convolution reverb with a choice of loading external IR WAV files or create your own impulses. There are a few other reverbs as well, so check the PDF files.
We've also added a stereo Multi-Tap Delay (up to 16 taps) to get combined delay/reverb effects.
The ZIP file has instructions to first BACK UP YOUR SETTINGS/PATCHES BEFORE INSTALLING. You can use the same uSD card for the update. We have included some short IR files to try out for the Convolution Reverb. Please note, due to internal memory limitation, the reverb 'tail' is only 550ms max. But it's still long enough to get some great sounds. Check the PDF for a listing of these files,
The User Guide PDF is updated, and has the functions of every CV/button for every algorithm.
Get your copy by clicking
here
---
E352 V1.6b PRODUCTION CODE released
This is strictly a manufacturing parts update, that allows multiple SPI FLASH IC vendors (where your user patches are stored) to be used.
Note that new production E352s are shipped with V1.6b, which is only needed for modules build after Sept. 2021. If you have V1.6 already, there is NO NEED to get V1.6b
Get your E352 V1.6b (only if you have V1.5 or older, or need to reflash your existing version) by clicking
E352 here
---
---
E370 Quad VCO V1.6b released (latest version)
Version 1.6b of the E370 firmware adds many UI improvements, enhancements, and a new 4-note Chord Mode. Plus Moses, our QA Manager.
If you have Version 1.6 or V1.6a, please update to V1.6b as there is a bug fix for loading/saving patches.
Get your copy by clicking
here
---
Click here for more E520 information and to download the new firmware V1.2.
Download the PDF (updated Nov 15 2021) on the E520 main page for detailed effect descriptions.
---
The E300 Ultra VCO is now available and shipping to dealers.
A modern revision of our legendary MOTM-300 Ultra VCO, the E300 (co-designed with Dave Rossom of EMu) features 10 octave tracking with superior temperature drift.
Click here for full details.
---
THE E352 CLOUD TERRARIUM
The E352 replaces the E340 Cloud Generator and the E350 Morphing Terrarium which are the first SynthTech Euro modules to enter 'vintage' status.
The E352 has shipped over 1000 units around the world, and was named MusicRadar's 2017 Eurorack Module of the Year.
Check the E352 page for full details, including a Limited Edition black panel option available on our new online shop.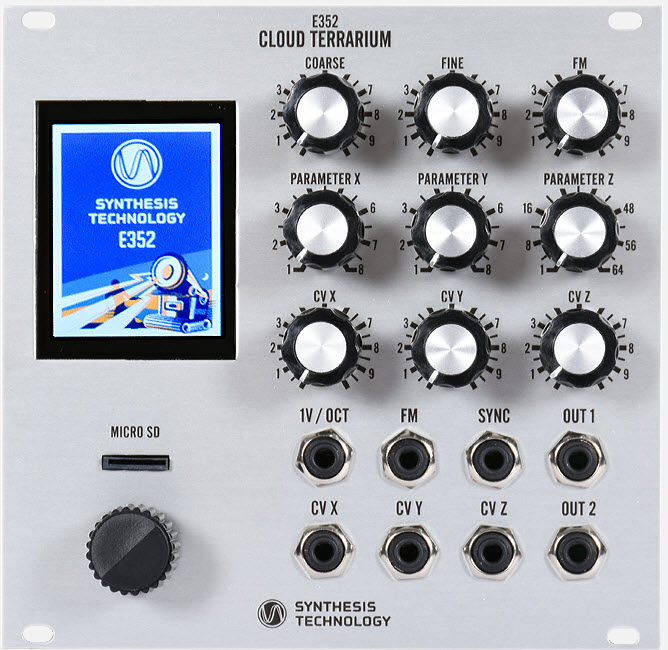 ---
E370 QUAD MORPHING VCO
The E370 began as a successful Kickstarter project, and is now shipping to dealers world-wide.
Using a new 216MHz DSP and a TFT color display, the E370 is highly programmable. You can even load in your own wavetables using our free cross-platform editor and save/recall presets.
See the E370 page for details.
---
Download WaveEdit, our free, open-source wavetable editor!
WaveEdit runs on Windows, Mac, and Linux. Using a simple interface and custom graphics, WaveEdit aloows easy editing, creating, and formatting wavetables for use in the E352 and E370 VCO. External wave samples can me imported (from Serum or other .WAV files) and scaled to fit into the E352/E370 format. Visit the WaveEdit page here for details.
---
NEW TUTORIAL VIDEOS
We've started a series of design videos, highlighting the CAD tools we use use here at Synthtech. You can subscribe to the SynthTech tutorials channel for the full series.
There are just a few now, in the months ahead we will add more and place them all on a single web page for quick browsing.
Please contact us if you have any feedback.