WEBSITE UPDATED Nov. 11, 2019
Announcing our next Kickstarter module, the E520 Hyperion Stereo Effects Processor. A 480MHz ARM Cortex M7 MPU/DSP is coupled with 64MB of SDRAM and 24bit Crystal Semi CODECs for both time-domain and frequecy-domain (spectral/FFT) effects.
Link to the KickStarter is here.
---
Click here for full details on the E520 Hyperion.
---
Please contact us if you have any feedback.
---
THE E352 CLOUD TERRARIUM
The E352 replaces the E340 Cloud Generator and the E350 Morphing Terrarium which are the first SynthTech Euro modules to enter 'vintage' status.
The E352 has shipped over 1000 units around the world, and was named MusicRadar's 2017 Eurorack Module of the Year.
Check the E352 page for full details, including a Limited Edition black panel option available on our new online shop.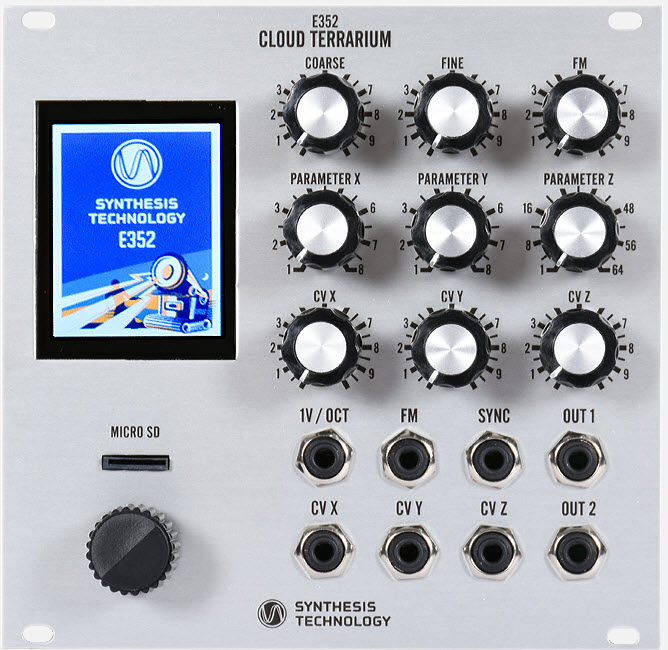 ---
E370 QUAD MORPHING VCO
The E370 began as a successful Kickstarter project, and is now shipping to dealers world-wide.
Using a new 216MHz DSP and a TFT color display, the E370 is highly programmable. You can even load in your own wavetables using our free cross-platform editor and save/recall presets.
See the E370 page for details.
---
Download WaveEdit, our free, open-source wavetable editor!
WaveEdit runs on Windows, Mac, and Linux. Using a simple interface and custom graphics, WaveEdit aloows easy editing, creating, and formatting wavetables for use in the E352 and E370 VCO. External wave samples can me imported (from Serum or other .WAV files) and scaled to fit into the E352/E370 format. Visit the WaveEdit page here for details.
---
NEW TUTORIAL VIDEOS
We've started a series of design videos, highlighting the CAD tools we use use here at Synthtech. You can subscribe to the SynthTech tutorials channel for the full series.
There are just a few now, in the months ahead we will add more and place them all on a single web page for quick browsing.